SIEMENS PM-UV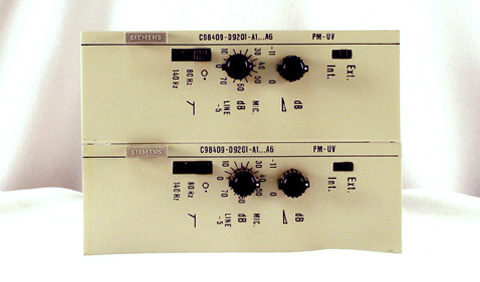 $1100 Two channels racked with internal mains and 48V phantom power supplies. Please ask for pricing on modifications and any desired special features.


Features:


Transformer balanced inputs and outputs
Up to 70 dB gain in 5dB increments
Gain fine tuning adjustment knob up to 10dB
Selectable high pass filter at 80 and 140 Hz
XLR mic and line level inputs and XLR +4 dB outputs in a one-space rack are standard
One year rack component Tretinoine crème kopen
Fourteen-day Price for viagra pill


From the fine Volks at Siemens in former West Germany, the same people who gave us so many classic preamps, EQ's, and compressors come the PM-UV microphone preamps. These hail from the early 80's and are the generation after the V276a from Siemens. Please take note of the nice Haufe-style input and output transformers shown in the interior picture. The PM-UV is an heir to a long tradition of fine German broadcast modules. German transistor-based microphone preamplifiers have earned an excellent reputation among studio engineers with modules like the Telefunken V672, Telefunken V676a, TAB V376a, the Neumann PMV 70, the Siemens V276 and more.

High tones are present yet smooth, low frequencies are full and punchy, the mid-range has a nice presence and slight grit, and overall they have a warm and slightly aggressive color character. With a bit more high-end than the Telefunken V672/2 and a thicker low-end than the Neumann V476B, these are a very nice sounding preamp. Plus 70 dB of gain is more than enough for even the most sensitive of ribbon mics. Racked buy us, they are a perfect mix of vintage sound with modern functionality and reliability and at the price a serious bang for the buck.



Atorvastatin 20 Mg Coupon
5-5
stars based on
83
reviews
Atorvastatin is used to treat high cholesterol. Atorvastatin is also used to lower the risk of stroke, heart attack, or other heart complications in people with coronary heart disease or type 2 diabetes. Atorvastatin is a cholesterol-lowering medication that blocks the production of cholesterol (a type of fat) in the body. Atorvastatin reduces low-density lipoprotein (LDL) cholesterol and total cholesterol in the blood. Lowering your cholesterol can help prevent heart disease and hardening of the arteries, conditions that can lead to heart attack, stroke, and vascular disease.
Where can i get valium in ireland ? i cant find much info about it in any site, i was wondering if there some thing that you shou