TELEFUNKEN V676A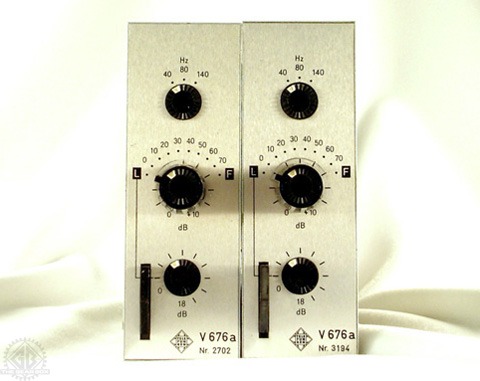 $1600 Two channels racked with internal mains and 48V phantom power supplies. Please ask for pricing on modifications and any desired special features.


Features:


Transformer balanced inputs and outputs
Up to 76 dB gain in 10dB increments
Gain fine-tuning adjustment knob up to 10dB
Selectable high pass filter at 40, 80, and 140 Hz
All discrete circuitry
XLR mic level inputs, XLR +4 dB outputs, polarity reversal, & 20dB pad in a one-space rack are standard
One year rack component warranty and six-month module warranty
Fourteen-day satisfaction guarantee


These mic preamps were made by the fine Volks at Telefunken in former West Germany, the same people who gave us so many legendary sounding microphones, preamps, EQ's, and compressors. First manufactured in the late sixties, the V676A was the transistor-based version of the legendary V76 and all circuitry is discrete, living up to the strict German television and radio broadcast standards regulated by the Institut für Rundfunktechnik in the 60's, 70's, and 80's- thereby earning it the designation V676A.

Like most of the TAB, Telefunken, Siemens units, they exhibit a quality in craftsmanship that is second to none. Please take note of the Haufe-style input and output transformers in the interior circuitry pictures. The Telefunken V676A is an heir to a long tradition of fine German broadcast modules. German transistor-based microphone preamplifiers have earned an excellent reputation among studio engineers with modules like the Telefunken V672, TAB V376, Neumann PMV 70 and V476B, Siemens V276, and more.

High tones are brilliant yet not harsh, and low frequencies are tight and overall they have a warm color character. I find them to be quite solid and punchy and they sound very airy on the top end. These things really pull through on tracks that need an open feel. These are among our personal favorites for room mics, drum overheads, acoustic guitars, brighter electric guitars, background vocals, strings, and even bass. We've even had engineers use them on the 2-bus to bring a little life to a digital mix with great results. Upon request, we can also modify these to have a smoother and not quite so bright tone, which some people find better for certain recording purposes, especially rock. Plus 76 dB of gain is more than enough for even the most sensitive of ribbon mics. These are one of the absolutely best mic preamps around and stand their own against the "titans" of audio recording preamps.