RCA BA-72A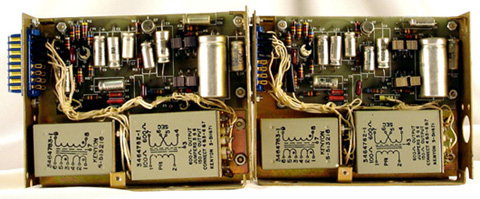 $1300 Two channels racked with internal mains and 48V phantom power supplies. Please ask for pricing on modifications and any desired special features.


Features:


Transformer balanced inputs and outputs
Up to 46 dB gain stock, modifiable up to 65dB
All discrete circuitry
XLR mic level inputs and XLR +4 dB outputs, input gain potentiometers, polarity reversal, and 20 dB Pad in a one-space rack are standard
One year rack component warranty and six-month module warranty
Fourteen-day satisfaction guarantee


Manufatured in Camden, New Jersey by RCA, the same people who gave us so many classic microphones and preamps come the mid-sixties BA72A microphone preamps. Please take note of the RCA input and output transformers on each channel and their all discrete construction. These four-transistor versions sound super smooth across the frequency spectrum, yet have a nicely thick low and low-mid section without being muddy. Use them in correlation with quality high output condenser microphones to achieve a very smooth and classic tone, or on drums, guitars, or anything requiring a big and thick low-end.